£15000 Ayrshire Hospice Donation
Dalry based Clyde Coast and Garnock Valley Crematorium has donated £15000 to Ayrshire Hospice through its membership of the Institute of Cemetery and Crematorium Management's Recycling of Metals Scheme.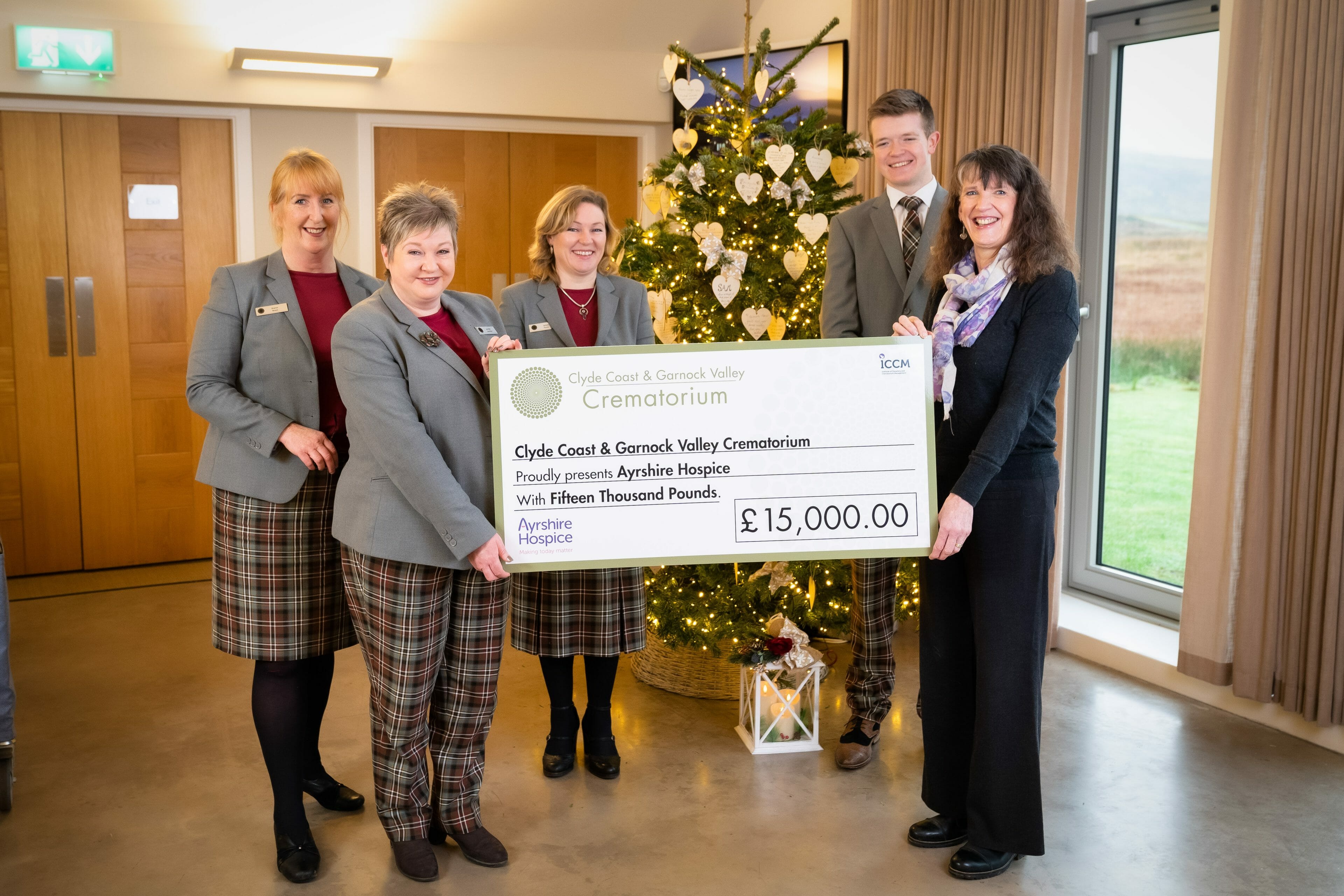 The magnificent sum was handed over to Ayrshire Hospice Chief Executive, Carla MacEwan by Crematorium staff on 16th December.
Crematorium Manager, Jennifer Hamilton, says 'It is wonderful to be able to donate £15000 to Ayrshire Hospice, especially at this time of year. We are very aware that the fundraising activities of our local hospices have been curtailed during the pandemic and yet their services have never been more in demand. Our heartfelt thanks go to each and every family who have given us permission to recycle metals following the sensitive cremation of their loved one. Every single piece of metal recovered is helping charities such as Ayrshire Hospice at a time of great need.
We are immensely proud of our participation in the Recycling of Metals Scheme and since we opened our doors in 2018 we have donated £73000 to local Hospices alone.'
Carla MacEwan adds 'The Ayrshire Hospice is extremely grateful to all of the families who have supported this scheme,  and the funds raised will be used to  continue to provide excellent care to patients with life limiting illness across Ayrshire and Arran.'
Jennifer Hamilton continues, 'Care, compassion, kindness and community are at the heart of everything we do here at Clyde Coast & Garnock Valley Crematorium, so to be able to honour the memory of loved ones by supporting our community hospices is something that we are absolutely committed to, both now and in the future.'