Vital Funds Raised for Inspirational Ardgowan Hospice
We are incredibly pleased and proud to announce that we have made an important and much-needed £10,000 donation towards Ardgowan Hospice – to help support the crucial and sensitive end of life care that they provide for local families.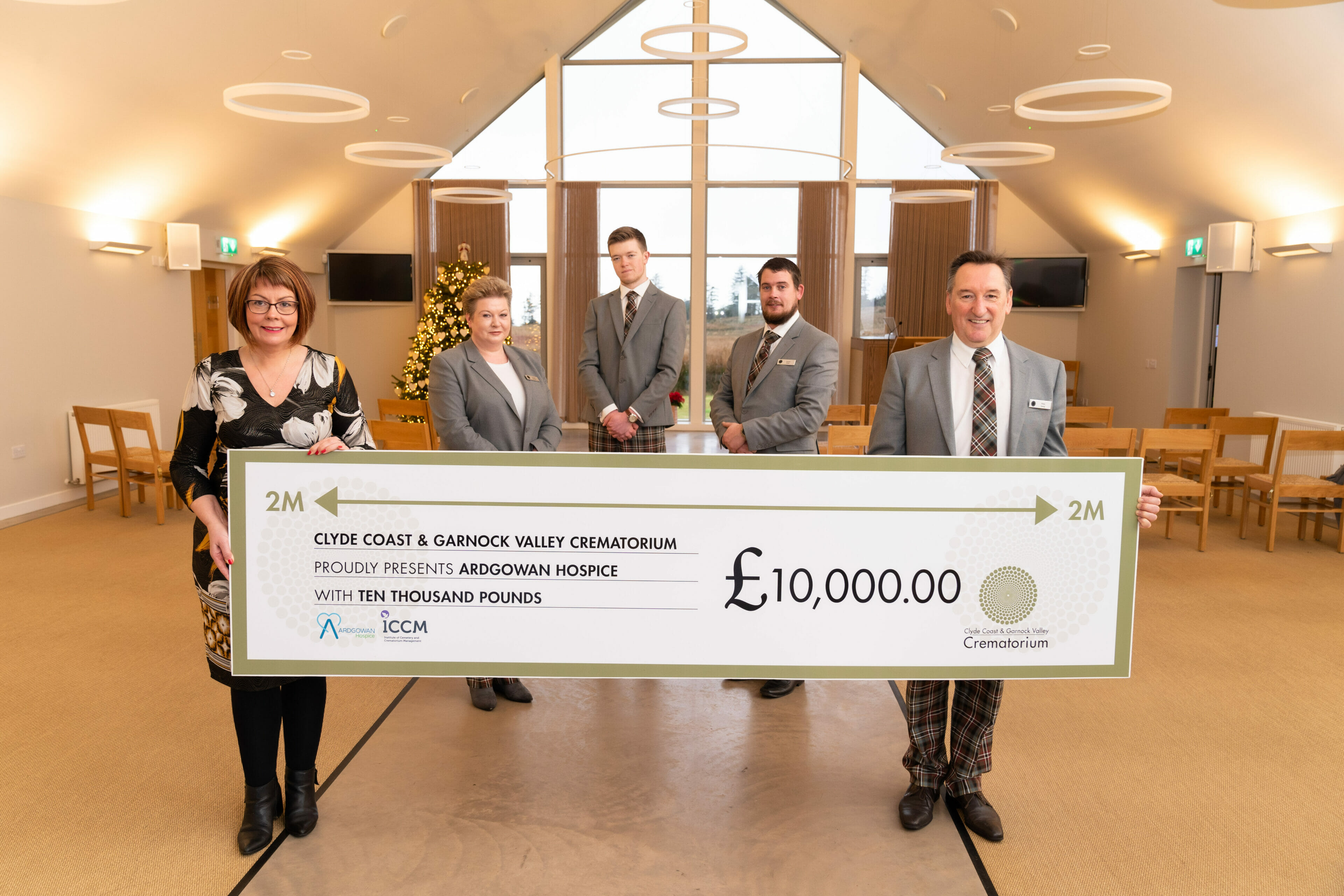 This is the fifth significant donation that we have made to local community-based charities since opening just over two years ago – bringing the total now donated to important local community causes to £48,000.00.
The funds presented to Ardgowan Hospice were raised through our membership of the Institute of Cemetery and Crematorium Management's national Recycling of Metals Scheme, and the money was officially presented to Elaine McNeill of Ardgowan Hospice at our award-winning crematorium.
The Institute's Recycling of Metals Scheme is a national initiative and works by sensitively recovering metals and orthopedic implants following cremation with the consent of bereaved families.
Philip Ewing, Manager of the Clyde Coast & Garnock Valley Crematorium, said:
"As professionals assisting the bereaved, we recognise the financial challenges that organisations supporting families at a most difficult and vulnerable time face, particularly during these exceptional times that we are all currently experiencing.
"These funds will directly benefit the inspirational Ardgowan Hospice, and the families they are supporting right now.
"We support all of our local Hospices and also CHAS, the Children's Hospice for Scotland, taking each one in turn, and we have been able to donate a total of £48,000 since we opened our doors in late 2018.
"Hospices are a crucial and sensitive part of our community, and we feel so humbled to be able to make donations like the one we have made today to Ardgowan Hospice."
"Our deep and heart-felt thanks go to each and every family who consented to take part in the national recycling scheme."
Linda Kelly, Head of Corporate Development at Ardgowan Hospice, said:
"We are extremely thankful to Clyde Coast and Garnock Valley Crematorium for choosing to support us for the second time with this substantial donation, especially in such difficult times when our ability to fundraise has been impacted so significantly.
"We rely hugely on the generosity and support of our local community and businesses. Having charity partners, such as the outstanding Clyde Coast and Garnock Valley Crematorium is so important."