£4000 North Ayrshire Food Bank Donation
We are pleased to have made a much needed £4000.00 donation to North Ayrshire Foodbank, to directly help local people and families in crisis during these exceptionally difficult times.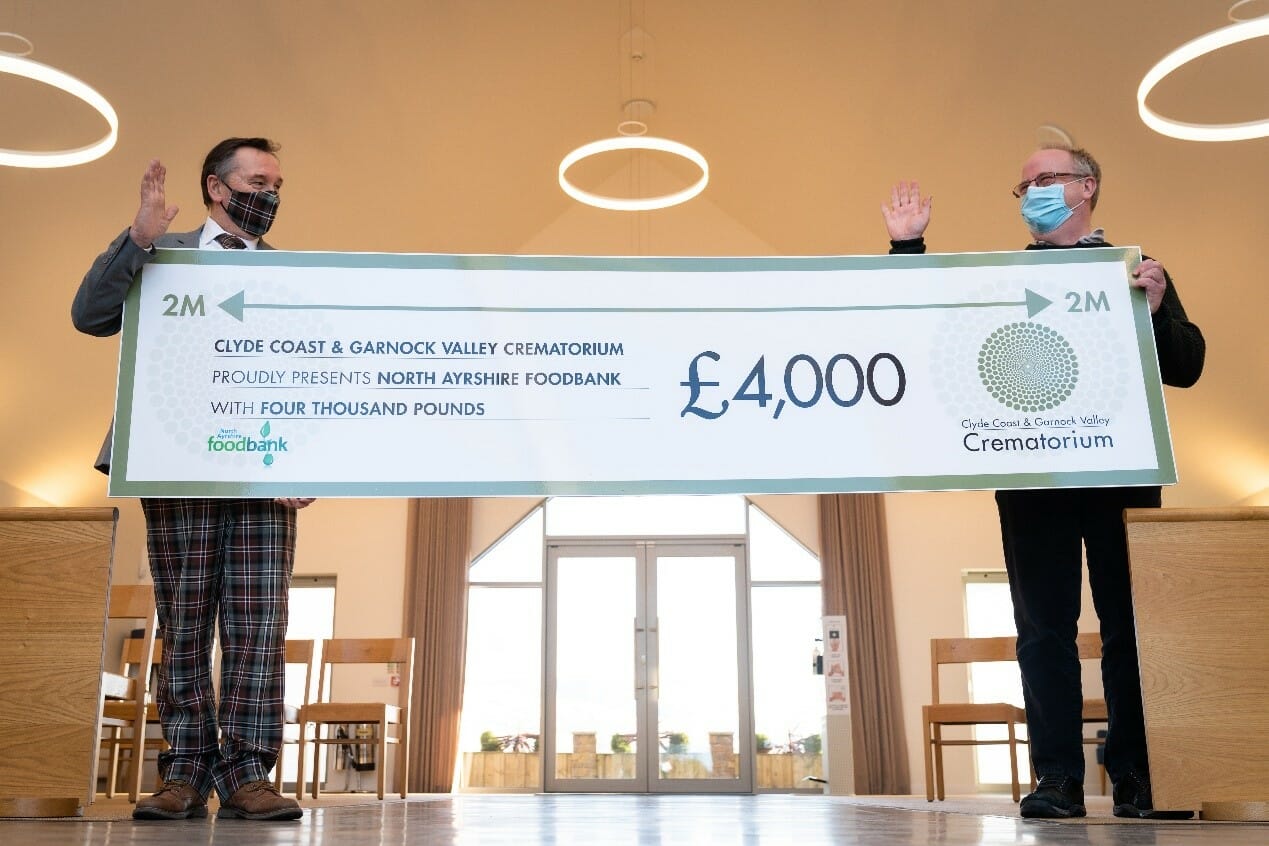 Many families across the local area have been impacted by Covid-19 not only in terms of bereavement and loss, but also through the fact that the prolonged lockdown has meant that many people are unable to work, which in turn has had a devasting impact on their finances and their lives.
Last year, North Ayrshire Foodbank helped over 9,000 local families with three-day emergency food supplies, and recent research suggests that 1 in 5 of the UK population live below the poverty line.
North Ayrshire Foodbank is completely reliant on local donations and the support of volunteers from across the local area in order to deliver help for those in need.
This £4000.00 donation is made up of £1912.00 donated by kind-hearted people who have visited the crematorium over the past year, and who left money and spare change in our general collection boxes, and we have match funded and rounded-up the amount to a grand total of £4000.00.
We are very grateful to all those who have left money and spare change in our general collection boxes, in order that we can help others in need.
Commenting on the donation, Philip Ewing, Clyde Coast and Garnock Crematorium Manager said:
"We are at the heart of the communities we serve, and our sole aim is to support those in need when help is most needed, and we are very pleased to be in a position to make this £4,000.00 donation to North Ayrshire Foodbank – with our sincere and heartfelt thanks also going to every one of those people who dropped their spare change and donations into our collection boxes over the past year."
Craig Crosthwaite, coordinator from North Ayrshire Foodbank added:
"We thank everybody for their compassionate giving through the donation box and for the Clyde Coast and Garnock Valley Crematorium more than match funding the amount collected.
This money will be used to support a new project to assist local households. Across North Ayrshire a network of Larder projects are being established. The funds will go to buying fresh fruit, vegetables and meat to be issued to households giving healthy and nutritional food."
Since the Clyde Coast and Garnock Valley Crematorium opened less than 3 years ago, it has raised and donated £52,000.00 for the benefit of local charities, mainly focusing on local Hospices and local Cancer Care services, including Ayrshire Hospice, Ayrshire Cancer Care, Ardgowan Hospice, St Vincent's Hospice as well as CHAS, the National Children's Hospice, all of whom rely heavily on donations and volunteers to deliver their critical and sensitive services.