£10,000.00 St Vincent's Hospice Donation
We are incredibly pleased and proud to announce that we have made an important and much-needed £10,000 donation towards St Vincent's Hospice – to help support the crucial and sensitive end of life care that they provide for local families.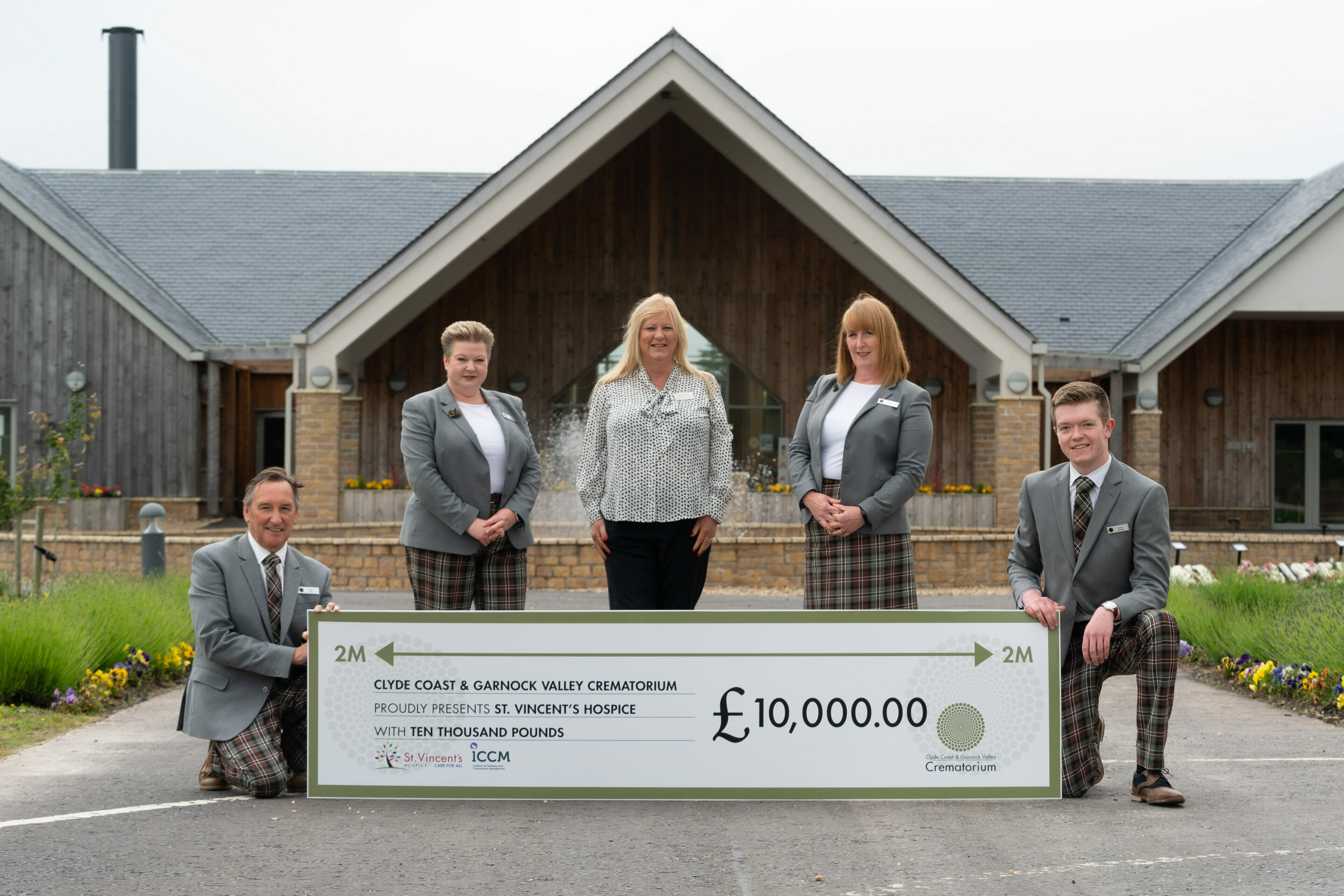 The funds were raised through the crematorium's membership of the Institute of Cemetery and Crematorium Management's national Recycling of Metals Scheme, and the money was officially presented to Carol-Anne Lamont of St Vincent Hospice at the new state of the art crematorium located within the panoramic hills above Dalry.
The Institute's Recycling of Metals Scheme is a national initiative and works by sensitively recovering metals and orthopedic implants following cremation with the consent of bereaved families.
Since opening just over 3 years ago, this is the seventh donation we have made to vital local Hospices and end of life care services, totaling £62,000.00.
Philip Ewing, Manager of the Clyde Coast & Garnock Valley Crematorium, said:
"As professionals assisting the bereaved, we recognise the financial challenges that organisations supporting families at their most difficult and vulnerable time face."
"Covid has had a devastating impact across society, affecting not just families but also Hospices who have faced more pressure to provide end of life care, whilst simultaneously seeing the ability to raise vital funds in the traditional method curtailed as lockdown was introduced."
"The funds raised through this recycling scheme donation will directly benefit the hospice and the families it supports, when they are facing a difficult time through bereavement."
"Our heart-felt thanks go to each and every family who consented to take part in the national scheme, without whom life-changing donations such as the one we are making today would not be possible."
Carol-Anne Lamont, Income Generation Lead at St Vincent Hospice, said:
"The continued support from Clyde Coast & Garnock Valley Crematorium is greatly appreciated and helps us continue to deliver vital support to patients and their families across our community."
"Throughout this unprecedented and challenging time for all, St. Vincent's Hospice has remained open. The pandemic forced us to alter our ways of working and as well as supporting those with life-limiting conditions in whatever way we can within the hospice itself.  Our team have been visiting patients in their own homes, providing telephone consultations or counselling sessions as well as virtual face-to-face support.  We have been finding new ways to make sure we are still her for everyone who needs us."
Philip Ewing added:
"Since its inception in 2006, the Institute's national recycling of metals initiative has now raised over £11.4 million, and it gives great comfort for those who have contributed to the scheme to know that the money raised, is used to support charities like St Vincent's Hospice in the delivery of incredibly important and sensitive end of life care."
"Like St Vincent Hospice, we are absolutely committed to providing the very highest levels of care and compassion for families when they need support most, and we are incredibly proud to be in a position to make this donation."
For further information on St Vincent Hospice, please contact Carol-Anne Lamont  01505 705 635 or email info@svh.co.uk or by visiting their website www.svh.co.uk
For further information on Clyde Coast & Garnock Valley Crematorium, please contact Jeremy Hamilton on 07807 426 879 (jeremy.hamilton@horizoncremation.co.uk) or Philip Ewing on 01475 607 140 (philip.ewing@clydecrematorium.co.uk) or by visiting the website www.clydecrematorium.co.uk